Every story must have a first telling, and therefore a first place where it is first told. Few tales either contain or retain a strong connection to any specific location though, and often lose those connection as time passes and the story is retold, particularly as it moves away from its place of origin.
Tam Lin comes from Scotland, and it is therefore not surprising that Tam Lin retains ties to Scotland in the form of the language and imagery present in the tale. However, the tale retains important links to its origins in a number of other ways as well. For one, the tale often mentions noble familes of importance, and therefore more can be learned about Tam Lin by studying Tam Lin and the Families of Scotland
Furthermore, there is one specific region of Scotland that has stronger ties to Tam Lin than any other version. The choice of place names and event locations indicated the strongest ties to Scotland are centered around a specific area in the border regions, and we shall therefore also explore Tam Lin and Carterhaugh.
Source Locations for Versions of Tam Lin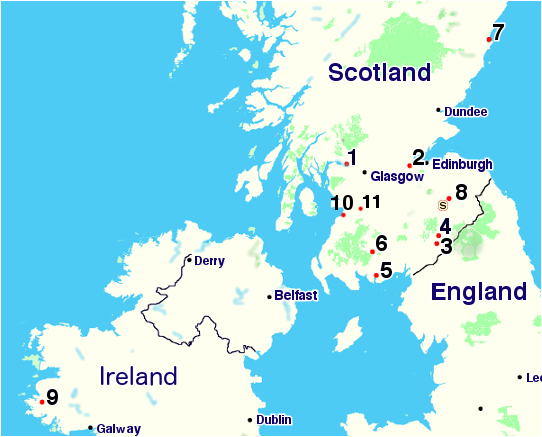 The S makes the location of Selkirk, one location heavily associated with the ballad.

Note:: Although several versions cite names that are also place names in Scotland (Pitcairn, Motherwell), I believe these are the names of the authors of the manuscripts in which these versions of Tam Lin were collected, and not to the places from which they originated.